Back to News
Dutch B-Corp O My Bag joins GoodShipping to decarbonise its freight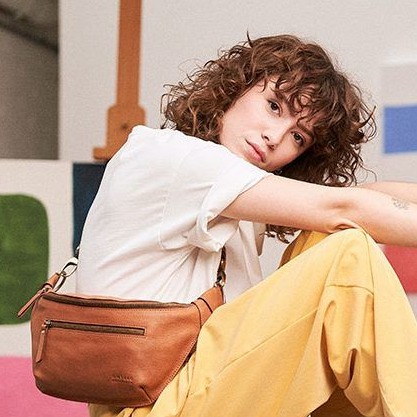 O My Bag, the Amsterdam-based brand that produces eco-friendly and ethically–made leather handbags and accessories, joins forces with the world-first sustainable cargo initiative GoodShipping to decarbonise the company's supply chain by replacing fossil fuels with sustainable alternatives. The certified B Corp known for its strong focus on fair trade and sustainably produced bags and accessories becomes the latest company to join GoodShipping in an effort to achieve a zero-carbon supply chain.
Under the partnership, GoodShipping will facilitate a switch to biofuel for the company's cargo shipments, inbound as well as outbound. This switch provides O My Bag with a simple, easy, and affordable solution to cut their Scope 3 emissions. The use of sustainable marine biofuel allows O My Bag to achieve a 100% CO₂ well-to-exhaust reduction within its supply chain.
This partnership is the latest in a series of sustainability-focused initiatives that O My Bag is investing in as part of their 2030 Vision, focusing on three pillars: ethical supply chain, eco-friendly production, and raising awareness. Other priorities are to roll out living wages in its full supply chain, to advance women's careers in producing factories by setting up long-term training programs and to continuously innovate with sustainable materials (such as their recent apple leather collection). Founded as a social enterprise in 2011, the company has attained official B Corp status in 2021.
Biofuels for non-ship owners
GoodShipping enables companies from all sectors and sizes to decarbonise their ocean freight transportation via a fuel switch from fossil fuels to sustainable alternatives – an innovative concept called carbon insetting. Using GoodShippings insetting service, freight owners like O My Bag can decarbonise their supply chain despite not owning or chartering the vessels that transport their freight.
The biofuels used for this partnership are provided by marine biofuels pioneer GoodFuels. All GoodFuels' biofuels are sustainably sourced and completely derived from residues and waste oil products. The biofuels are also verified by an independent sustainability board of leading academics and NGOs in the transport sector.
Commenting on the partnership, Femke Lotgerink, Sustainability Manager at O My Bag said: "We're very aware of the footprint of our international shipping. Therefore we're excited to be working with GoodShipping to reduce the environmental impact of our transport operations. We are constantly striving to lower our impact on the environment, and increase our positive social impact. This new partnership enables us to act upon our 2025 Vision goal to minimise our carbon footprint. Furthermore, we hope to inspire our fashion industry peers by showing we can already make a big impact today by opting for solutions offered by sustainability pioneers like GoodShipping."
Katarin van Orshaegen, Commercial Lead at GoodShipping said: "The carbon insetting service that GoodShipping has pioneered fits the fashion industry perfectly. It's even more rewarding to see a frontrunner like O My Bag opt for our solution. We're proud to be working with an organisation that is known for its high standards and keeps on pushing the boundaries of corporate responsibility. The commitment from O My Bag to reduce their carbon footprint from transportation by replacing fossil fuels with sustainable, advanced biofuels makes them a true front-runner in zero-carbon transportation."