Back to News
Royal Van Wijhe Verf joins GoodShipping to decarbonise its ocean freight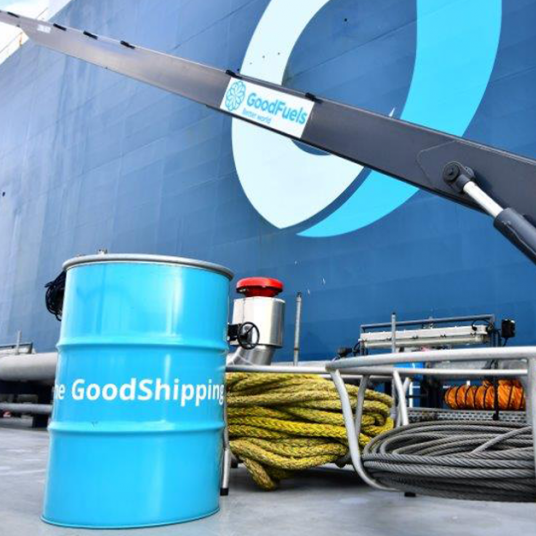 AMSTERDAM, THE NETHERLANDS – Tuesday, October 19: Royal Van Wijhe Verf, a global supplier of coatings and colourants, joins forces with the world-first sustainable cargo initiative GoodShipping to decarbonise the company's ocean freight of all incoming raw materials through the application of sustainable marine biofuel. Royal Van Wijhe Verf, known for its portfolio of brands including Wijzonol, Ralston, Rebel Paints and SolidLux, becomes the latest company to join GoodShipping in an effort to achieve a zero-carbon supply chain.
Under the partnership, GoodShipping will facilitate a switch to biofuel for the company's cargo shipments, therefore providing Royal Van Wijhe Verf with a simple, easy and affordable means of cutting Scope 3 emissions. The use of sustainable marine biofuel allows Royal Van Wijhe Verf to achieve a 100% CO2 well-to-exhaust reduction within its supply chain.
The move matches efforts that Royal Van Wijhe Verf has taken to make its product portfolio sustainable. In 2012, the organisation launched its first sustainable indoor wall paint and has remained at the forefront of the development of innovative biobased paint technology. As the first chemical company in the world with a B Corp certificate, Royal Van Wijhe Verf is a real sustainable frontrunner in the paint industry sector. Today's announcement also supports Royal Van Wijhe Verf's ambitions to have a completely carbon-neutral supply chain by 2025, including its ocean freight transportation.
The biofuels used for this partnership are provided by marine biofuels pioneer GoodFuels. All GoodFuels' biofuels are sustainably sourced and completely derived from residues and waste oil products. The biofuels are also verified by an independent sustainability board of leading academics and NGOs in the transport sectors.
Commenting on the partnership, Marlies van Wijhe, CEO, Royal van Wijhe Verf, said: "We're delighted to be working with GoodShipping to reduce the environmental impact of our transport operations. With this new partnership, we hope to create a snowball effect. Ultimately, it has to come from the shipping companies themselves, but we aspire to be sustainability pioneers like GoodShipping, and aim to inspire more companies to follow this path."
Katarin van Orshaegen, Commercial Lead at GoodShipping said: "This is a natural partnership for GoodShipping and we're proud to be working with an organisation that puts sustainability so close to everything it does. The commitment from Royal Van Wijhe Verf to reduce its carbon footprint from ocean transportation by shifting away from fossil fuels to sustainable, advanced biofuels makes them a true pioneer of zero-carbon transportation."
As the world's first decarbonisation impact service, GoodShipping enables companies from all sectors and sizes to decarbonise their ocean freight transportation via a fuel switch from fossil fuels to sustainable alternatives – an innovative concept called carbon insetting.